Office Furniture Manufacturers Report Mixed Forecast For 2005 Exports
2005/03/16
Makers of office furniture in Taiwan have mixed views about their export prospects this year, due to weakened competitiveness in overseas markets brought on by the recent appreciation of the New Taiwan dollar and rising prices of raw materials. Manufacturers are also uncertain about their pricing and profit outlook for 2005.

Some manufacturers are relatively optimistic, however, saying that they can continue to attract foreign orders by focusing on patented and innovative products. This strategy also allows them to pass on part of their increased costs to buyers, while differentiating their products from those of cheap pirated items made in developing countries, particularly mainland China.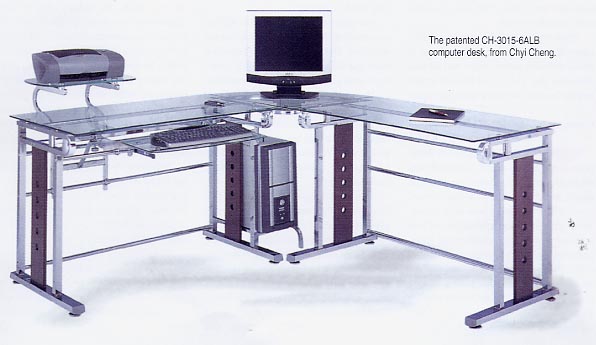 One of the optimists is Chyi Cheng Co., Ltd. A 15-year-old maker of knockdown (K/D) metal furniture. Company executives expect 2005 to be a bumper year for its office/computer desks, on which it owns a number of patents for design, structure, and parts.

Despite predictions of a slowdown in the global economy, Chyi Cheng has witnessed a continuous increase in enquiries and orders, especially from Japan, says the president's secretary.

Among the firm's most outstanding products is the CH-3015 series of computer desks, which feature patented frames, aluminum-alloy joints, mobile printer stands, and adjustable keyboard stands. The desktops are made of tempered glass, or from wood imported from Vietnam.

The company's metal office tables, made of steel and iron plate from Taiwan, have won widespread acclaim from leading furniture buyers around the globe, including Wal-Mart of the United States, B&Q, Leroy, Merlin, and ASDA of Europe, and LOAS of Japan.

Chyi Cheng has experienced a surge in its orders from Japan since 2004, boosting its exports to that country to 60% of total sales, up from 30% in 2003.

The firm's daily output of metal furniture, which also includes a wide variety of storage racks and cases, is enough to fill three 40-foot containers.


Variety in Materials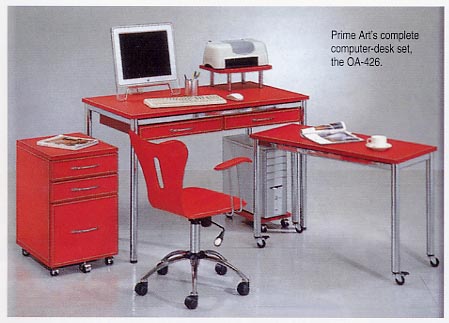 Another leader in the line is Prime Art Industrial Co., Ltd. Of Fengyuan, central Taiwan, which expects exports to grow only slowly this year because of rising raw materials costs, the appreciation of the NT dollar, and a slowdown in the global economy.

The company produces computer desks, storage stands, and racks, using steel tubes and plates for frames and PVC board for the desktops. Its materials costs have soared 30% in the past year, reports an executive. Some of the increased costs have been passed on to quality-conscious buyers who are willing to accept some of the pain.

Prime Art can turn out enough products to fill 40 40-foot containers every month. All is exported, 70% through trading houses and 30% by the company itself. Its most popular product is the OA-330 computer desk, which features an adjustable top. A smaller version, the OA-339SG, is also available.

A company executive reports no plans to move production to China, as many other manufacturers have done to keep costs down; instead, Prime Art will focus on self-designed products that can attract more customers.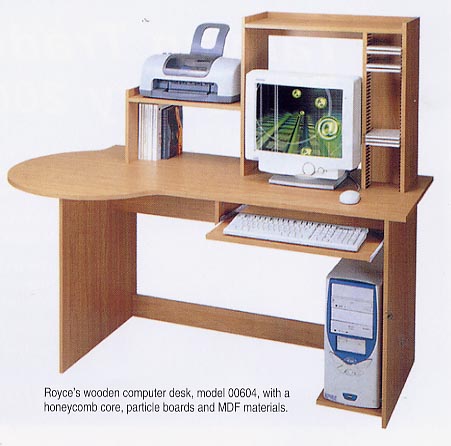 Royce Enterprise Co., Ltd. Shifted its production to Batam Island in Indonesia back in 1973 and, reports export manager Wendy Liu, makes computer tables, workstation desks, and audio/video and multimedia storage racks using particle boards and boards with honeycomb cores and MDF materials. Office furniture makes up 40% of its total output.

The company exported US$20 million worth of furniture in 2004 and Liu expects a similar performance this year. Sales may be affected, however, by price hikes instituted in response to the recent appreciation of the NT dollar.

The plant in Batam has 500 workers who are capable of turning out enough furniture to fill more than 200 40-foot containers per month.

Wei Fang Development Co., located in Chiayi, southern Taiwan, recently came out with the newly designed W5806A computer desk featuring a three-layer deck for monitor, keyboard, and computer. The desk has wheels so that it can be moved easily.

Wei Fang, which has been in business for 10 years, previously relied on trading firms to promote its products overseas; but the trading houses have been sending fewer and fewer orders, so the company plans to handle 20% to 30% of its own export business this year.

To boost its exposure to foreign buyers, the company will exhibit its products at the International Furniture Fair Singapore and the Malaysia International Furniture Fair this year, both of which are scheduled for Mar. 1-5.

Wei Fang has an integrated production line that can handle all processes from steel shaping and molding to the final assembly of computer desks and other office furniture. The company introduces six to eight new computer-desk models per year, using patented designs and technologies that are not easy for rivals in Taiwan and mainland China to copy.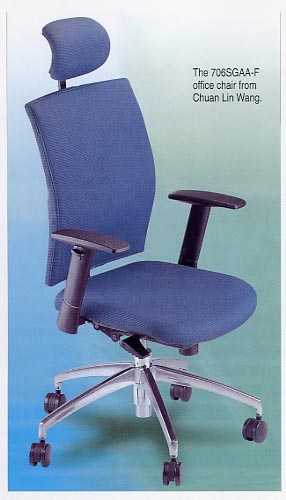 Another veteran Taiwanese furniture maker, Ofisworld Co., recently introduced its new FW series of office furniture including office tables, computer desks, chairs, and document and storage cabinets made with an ABS (acrylonite butadiene styrene) honeycomb core. The new series costs about NT$300 million (US$9.4 million at NT$32:US$1) to develop, and is targeted at the European and American markets.

The company takes in revenues of about US$50 million a year from a wide range of furniture products, including metal and wooden furniture, that are manufactured at a 2, 000-worker plant in China. This high flow of revenue, says management, allows the company to commit itself to long-term projects.

Chuan Lin Wang Co., Ltd. Which specializes in the production of complete office chairs as well as chair parts and components, sees a bumpy road ahead as the price of raw materials rises and the New Taiwan dollar appreciates.

The prices to the two key types of raw materials for office-chair makers, steel and PU leather, have risen more than 30% over the past six months, according to the company's export manager, Ben Chou.

Chuan Lin Wang says it takes in about US$300, 000 per month from exports, which account for 45% of its total output. The recent appreciation of the NT dollar has seriously eroded its overall profit, laments Chou. To help cushion the impact of rising costs and the NT dollar appreciation, the company plans to devote more of its production capacity to the output of office chairs, which yield a comparatively higher profit margin. (Jan. 2005)